On the 4th of July the (only) official competition of the season took place. With the men's and women team and of course our volunteers we travelled to Harderwijk.
Curious how Ton and Chrisja experienced this day? Then continue reading!
Ton: "Last Sunday I had my first competition in the 2nd division with Tartlétos instead of with Atletiek Leudal in the 3rd division. Early in the morning I picked up Daan, Daan and Julien and drove to Harderwijk to be the first of the Tartletes to arrive there. We picked a nice spot at the finish straight, while also other Tartletes started to come to the track. I started my warming-up because I had 110m Hurdles and high jump, unfortunately at the same time. I just did my normal warm-up and set-up my run-up for high jump just before I went to the start of hurdles. During the warming-up I felt good, so I had confidence to run a good race. Unfortunately I touched the 3rd hurdle with my lead leg, after which I could not find my optimal rhythm back. With a bad feeling because of my race, I hurried to high jump. They were already at 1.65m, so that was the height I had to jump. Still gasping and feeling bummed from my hurdles race, it was difficult to find the focus to jump just 5 cm below my PB. At my third try I finally found it and jumped 1.65m, but 1.70m was just too high with these circumstances. Luckily all the nice tartletes and their good performances were able to cheer me up. Also hearing my 110m hurdles time, gave me good hope for coming races, because despite my sloppy race, my time was still okay. An hour or so later I had to run the 100m, which I was looking forward to. I was feeling fast and confident again, so I ran a good race just 1 tenth above my PB, despite having a bad start. From then, my part of the competition was finished, but most others still had to perform, so I still had much to cheer for. During the last hours, the ominous dark skies predicted some bad weather, but only during the very last event, the 4×400 for men, much rain, thunder and lighting made a fast ending of the day in Harderwijk. Eventually the 4×400 for men had to be cancelled and we drove back to Wageningen again, where we had a good and cosy pizza dinner at the Trimsalon."
Chrisja: "On the 4th of July, our Tartletes drove to Harderwijk, to the first official competition. Wat was supposed to be a day full of rain and storm, became (for the most part of the day) a sunny day where many PRs were broken. Maaike ran a PR on the 100m hurdles (17.32), Erik ran again a PR on the 400m (49.52), Verena threw a PR with the discus (26.51) and Thomas jumped over 3.30 meters with pole vault. Dionne ran her first official match for Tartletos and Koen became first on the 800 meters. I ran the 100, 200 and 4x400m and was able to break my PRs as well. It was very nice to be able to run on another track, with other competitors again. Instead of running against fellow Tartletes, you could know win from people of the other teams. From the sidelines, fellow Tarletes cheered you to the finish line and there was a good team-spirit.
After our women ran the 4×400, it started to rain. We went to our tent quickly as a big rainstorm began. Unfortunately, the men that were supposed to run the 4×400, were waiting in the rain before the start. After the first series of men, a thunderstorm started and lanes 1, 2 and 3 were completely flooded. The rest of the match was cancelled, and our men were not allowed to show their skills on the 4×400, at least they showered already ;p. We ended the day with pizzas at the Trimsalon.
The men are luckily safe in the 2nd division. Unfortunately, our women have to shine on the 5th of September in the promotion/degradation match."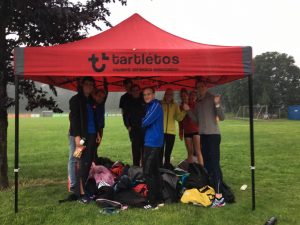 Elke made beautiful pictures this day, which can be found here. All results can be found here.