Board 2018-2019

        From left to right: Roel, Luca, Kris, Daan, Maaike, Thomas
Chairman: Kris de Kreek

Hi everyone! 
I'm Kris, 21 years old and I will be the chairman of Tartlétos for the coming year. Last year, I finished the bachelor biology in Wageningen and I just started the master biology. I will do the specialisations plant adaptation and bio-interactions. 
I started my athletics career 13 years ago, far from here in Zeeuws-Vlaanderen. This is still in The Netherlands and not in Belgium as the name would suggest. First, I did all disciplines but at some point, I chose for the middle and long distances. This went quiet well until three years ago when injuries forced me to run much less. Therefore, I also started cycle and swim a lot which is also nice to do. However, athletics will always be my first love.  
I have joined Tartlétos for three years now. During this period, I wasn't active within Tartlétos all the time due to these injuries. However, I found out helping at athletics competitions is a nice way of remaining involved when I can't participate myself. To lift the involvement with Tartlétos to a new level, I will be in the board this year. I'm looking forward to making this year of a successful year, together with the other board members.
Secretary: Luca Reniers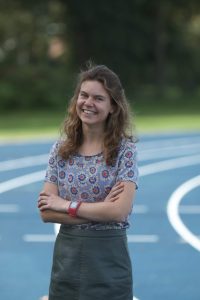 Hi everyone! I am Luca, 20 years old and I have been training by Tartlétos for two years now. I am currently in my third year of the bachelor Health & Society and I follow some nutrition courses for my minor. 
I live in Hoofddorp and there I also started with athletics. I trained for eight years at athletics association AVH. First I did all technical parts, but after a few years I started training with the MILA group for long distance running. When I came to Wageningen for my study, I did not hesitate to join Tartlétos. The association helped me to quickly find my place in Wageningen. My favorite parts are the 5km and 10km on the road. I would also like to run a marathon once, but I am not ready for that yet. This year I want to do some more competitions and get some more competition experience. I really like these competitions because you really participate as a team. In recent years I have participated with great pleasure in the Batavierenrace, so I would like to participate again this year. I am really looking forward to it and I hope to learn a lot and make it a sporty year. See you on the training! 
Treasurer: Daan Reijnen 
Hello Tartletes! My name is Daan Reijnen. I am nineteen years old and I study health and society. I will be treasurer of Tartlétos in the coming year. 
After I had played football for a couple of years I started running. I ran on my own for a year before I joined the track and field club in my hometown. I am still a member of that club and I train there every Sunday. 
When I found a room at the start of period 2, I went to Tartlétos. It took a while before I was used to Tonnie's trainings, but after a short period of time I found a group of athletes that ran just as fast as I did. The highlight of my Tartlétos time until now was the Inferno halfmarathon. I went to Switzerland with a couple other Tartletes to join this halfmarathon. This was no average halfmarathon. We had to climb 2200 meters! It was really tough, but also a fantastic experience. Other nice things were the Batavierenrace and the NSK ekiden.  
Last year, I was part of the Veluweloop committee. I liked it to organize such a big relay race. That's why I decided to apply for the Tartlétos board. At this time, we already had our first meetings. I am really looking forward to the coming year!
Competition commissioner home: Roel Kox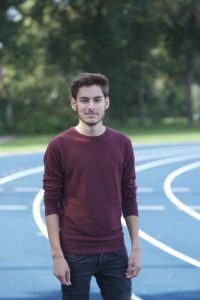 Hello fellow Tartletes! My name is Roel Kox and for this academic year, I will be the competition commissioner home. One and a half years ago I started doing athletics and joined Tartlétos. That turned out to be a great decision, because I fell in love with the club and the sport completely. I've been able to improve my running a ton (thanks Tonnie!), met a lot of great people and always had loads of fun participating in the many activities. Within athletics I enjoy the track meets the most; The ambiance is always amazing and I love everyone's competitiveness. I personally do mostly middle distance running (800m/1500m) but I like the longer distances as well, and would like to try some 400m races in the nearby future. 
In 2018 I helped organise the Tartlétos Loopgala, and I enjoyed it a lot. That experience inspired me to become the home competition secretary. I hope to organize many more competitions where all of you can have fun and hopefully perform well. I'm really looking forward to the upcoming year, and I can't wait to make it a big success!
Competition commissioner out: Thomas van der Heijde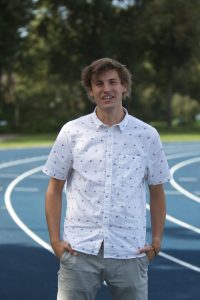 Hello, my name is Thomas van der Heijde. Last year I started with the bachelor Molecular Life Sciences in the beautiful city of Wageningen. A very nice and pleasant side effect is that at the time I also joined this very nice student sport association.  
I used to live in Het Gooi. In that still very innocent and safe environment I have practiced various sports, such as tennis and football. After practicing these sports for several years, I have become acquainted with the most beautiful sport that exists and which I still practice, athletics. Now a number of years, top performances, injuries and mental breakdowns about study credits later, I would like to dedicate myself to the Wageningen Student Athletics Association Tartlétos as Commissioner out. 
Last year I ran various committees, in and outside of Tartlétos. Think of the Campusruncie, Tartléten, but also a decor committee at the Wageningen musical association. I also like to do other sports, think of a tampon hockey, indoor football and beach volleyball. Besides sports and committees, I live in one of the most beautiful houses in Wageningen, the Trimsalon. Where I can relax after my run. It is not easy to do more long distance after a couple of years. 
Hopefully, as a board, we can set a good example with new PRs, tired body's and a very large container with fun.
Commissioner publicity: Maaike de Kreek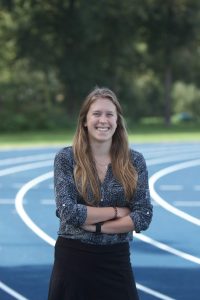 Hey everybody, I'm Maaike de Kreek, 20 years old and second year Nutrition and Health student. This year I'll be the commissioner of Publicity of Tartlétos. I grew up in a tiny village in the south-west of The Netherlands, which is a disaster traveling to by public transport, so you can often find me here during the weekends. I used to run around on the track for most of the time during my childhood, so it was an easy step joining the athletics association in Wageningen right away. When I was really young I tried every event in athletics, but I found out that I like running the most. At the moment I'm focussing on the 800 metres, but during the winter I like to do cross country as well. Besides that, I sometimes like doing javelin or hurdles as well. I'm already running on this beautiful blue track for more than a year now and I really enjoy it. The trainings are always quite serious, but besides that there is always time for fun and I want to keep it that way this year. I'm really looking forward to follow up Elke and make it a very nice year, See you!