Board 2023-2024
Chair: Iris van de Ven

Hello everyone! 
My name is Iris van de Ven, 21 years old, and born and raised in the always "gezellige" Den Bosch. Last school year, I started my Master's in Nutrition and Health in Wageningen, after completing my Bachelor's in Medicine at Leiden University. In September 2022, I also became a member of Tartletos because I was training for the Tilburg Ten Miles and the half marathon. In the past year, I also participated in NSK cross, NSK Ekiden, the Batavierenrace, and the Vestingloop.
Besides running, I enjoy cycling, swimming, and I also really enjoy the strength training on Mondays! Furthermore, I love cooking and baking, so I also helped organize tartlETEN last year. Additionally, I've developed a passion for good wines through my work in Schijndel at Restaurant Mász, where I can tell you all about the different wines and dishes 2 evenings a week.
Starting from October, I will be the new chair of the 50th board of Tartletos. It's a very exciting challenge for me, and I'm looking forward to it! We hope for a beautiful, fun, and successful year for our board and the entire association! 
Secretary: Meertje Holtrop

Hi! 
My name is Meertje. I am 19 years old and I grew up in Rheden, which is about thirty kilometers from Wageningen. Now I am in my second year of the bachelor Forest and nature conservation and I will take part in this year's board as secretary. 
I ran my first race when I was three years old. It was a three hundred meter kids run on Ameland. I can't remember it but I must have liked it since I often participated in kid runs afterwards. When I was seven I joined the athletics association of Dieren. There I did all-round training once a week and once a running training in the forest with the older children. When I was twelve I went to the association in Arnhem, Ciko'66. There I trained three/four times a week for the heptathlon in a super fun motivated group. After that, when I was sixteen years old, I specialized in the 400 and 800 meters and started training at Loopland Gelderland. And then finally, when I moved to Wageningen last year, I joined Tartlétos 🙂 
 Next to my studies and running, I spend my time working at the elderly home close to Wageningen in the weekends and making long distance cycling trips. 
I am looking forward to my board year at Tartlétos coming year; to be more involved with the association, to take part in the commission TartlEten and of course to have a lot of fun with the other Tartléten. 
Treasurer: Diede Wit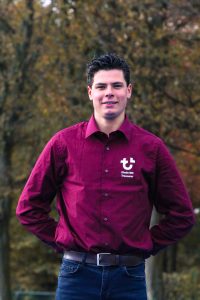 Hi Everyone, 
My name is Diede Wit, I am 21 years old and this year I will be the treasurer of Tartlétos. I was born and raised in Wageningen. Besides this board year I will be in my third year of Civil Engineering at the HAN in Arnhem. 
I started with athletics when I was 6 years old. I have never done another sport than athletics. The reason I started with athletics was because at my primary school we did a sponsor run and I really liked it, so I asked my mom if there was a sport that involves running. I used to be a member of Pallas, that's the civilian athletics association of Wageningen. When I was at Pallas, I mainly used to do a lot of 800m but in the last years I didn't do a lot of track runs, I did a lot of crosses. 
Two years ago, I joined Tartlétos because my trainings group got dismantled. My first year I wasn't active at Tartlétos, the second year I joined a lot more competitions and a few activities. The board of last year asked me if I would like to become a board member this year, I obviously said yes because I thought it would be a nice way to get to know the association a bit better, and because I thought it would be fun. 
I'm really looking forward to this year on the board and I hope to see you at the track or at one of the activities. 
Competition Commissioner Home: Jasmijn Hoevers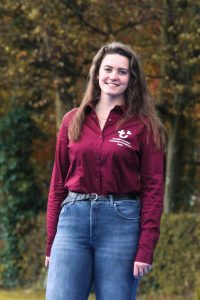 Heee everyone! 
 
My name is Jasmijn Hoevers, I'm 24 years old and starting my second year of the master Animal Sciences. As I was born and raised in Wageningen and basically grew up on this track, I'm more than happy to present myself as the competition commissioner home for this year!   
 
Even though I grew up doing athletics, I took a five-year break while I did my bachelor's in Amsterdam. During those years I did some other sports such as climbing, yoga, cycling and a lot of random sports classes. However, I never reeeally left the track as I was still active as referee at competitions and other volunteering functions such as the electronic distance measurement (EDM) in the throwing and jumping disciplines. When I came back to Wageningen for my masters, I wanted to start training again, so here I am 🙂 
 
Besides studying and athletics, I like playing board games with friends, going outside to enjoy nature and I try to go swimming and climbing every once in a while. I have a guitar and a small electronic piano, but they currently seem to be there mainly for decoration purposes. I'm also known for my love (or some might say pickiness) for Coca Cola.   
 
I am really excited for this year with my fellow board members and hope to make a lot of fun memories together with all of you on and off track!   
 
PS. Small fun fact: I am a 'second generation' board member. In '83-'84, my father did a Tartlétos board year, so that is exactly 40 years ago! 
Competition Commissioner Away: Eva Riemeijer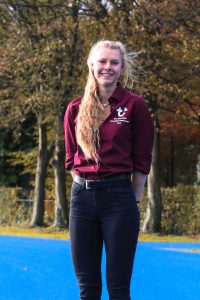 Heey everyone, 
My name is Eva Riemeijer and I will be the Competition commissioner away for the upcoming  board year. Some of you already know me from the last year at Tartlétos, where I had the pleasure of being a part of some of the committees. For the people who don't, I will shortly introduce myself. I am 23 years old and I am currently pursuing my bachelor's in Biology and  hope to start my masters in Biology in the beginning of next year. Before Biology, I followed the first year of the study in Forest and Nature Conservation at Van Hall Larenstein in Velp, near Arnhem. However, I found that it wasn't quite the right fit for me. As a result, I ended up living in Arnhem for about 2.5 years, including my first year of bachelor's studies in Wageningen. 
I started doing athletics since I was 6 years old in my hometown Nütterden (Germany) closely to Nijmegen. Back then, I was actually involved in all the track and field events, where I really liked everything including sprinting, long jump, hurdles, and preferred middle-distance running (MILA). The one aspect that didn't quite resonate with me was throwing. 
After a couple of years I got asked to run for Team Zevenheuvelen  so I switched to Nijmegen, to train more seriously, especially for steeple until I got injured. With a lot of ups and downs I am able to run again after 6 years and started to train at Tartlétos since 2021 with a lot of pleasure in sports as well as with all the lovely people I had the pleasure of getting to know. 
As we look ahead to the upcoming year, I am very excited. I am looking forward to see a lot of you at the track and have an amazing year with al the Tartleets and my fellow board members. 
Let's make this year an incredible one for Tartlétos together! If you have any questions, ideas, or simply want to chat, please don't hesitate to reach out. Here's to a year filled with achievement, growth, and most importantly, fun! 
Greetings, Eva
Commissioner Publicity: Cedric Smits
Hello everyone 
I am Cedric, and I will be your commissioner of Publicity this year 
I was born in Sittard, a small town in Limburg, later my parents moved just across the border to Germany where I lived most of my life until I moved to Wageningen. 
Currently I am in my third year of the bachelor biology (BBI) , and I chose to specialize in health and development. 
As a young kid, I used to play soccer and I did do competition swimming for 3 years, but after some time I decided that it was time for something new when I started high school. I joined the athletics association in my home town ( AV Unitas), and started with doing all the events, I had a short break where I tried out middle distance running but I think I already fell in love with decathlon. So I switched back to doing all the events, especially pole vault was something I really loved to do and I still think it is the greatest event to participate in. 
I joined Tartlétos in my first year and immediately felt like I was at home, everybody was very kind and I felt that the ambiance was very chill but there is also room to work hard and improve yourself. You will probably see me around a lot, on the track or in the bongerd, just search for the guy that wears the light blue pants that is jumping a lot 🙂 
I am really looking forward to this year as the commissioner of Public relations. If you need someone to talk to just come to me and I will give you a listening ear! 
Greetings Cedric