Campus Run 2021 online
Do you want to see what all the running during lockdown brought you, or do you want to work on your new years resolutions by participating in a race? Sign up for the Campus Run! It doesn't matter if you have been running for years or if you have just started, the Campus Run is for everyone!
The Campus Run
The Campus Run is an online running event that takes place on the campus of Wageningen University & Research. You can run 2.5km, 5km, and 10km. You have a whole week (from 7 till the 13th of June) to complete the route made by the organization. After your run, upload your results to Runnermaps and you will end up in the standings. It is also possible to run multiple distances, but not on the same day. Everyone can join: students, PhD students, employees, and other sportive people who are not registered at the WUR.
Team tournament
This year there will also be a team tournament so you can join together with your friends, house or association. A team consists of a minimum of 3 participants (no maximum) and it does not matter which distance you run (2.5, 5 or 10). The team tournament is next to the individual race; you will end up in the individual standings and your result is valid for the team. It is not possible to join multiple teams. The average speed of the team determines who will be the winner of the team tournament.
There will also be a prize for the best-dressed runner!
Route
The start and finish of the Campus Run is of course on the campus of the university. The start and finish is on the crossing of Droevendaalsesteeg and Bornsesteeg, close to Forum. It does not matter if the route is run clockwise or counterclockwise. The routes are also available as gpx files so that you can upload the route to your sportswatch. If you would like to have these gpx files, please send an email to campusrun@tartletos.nl and we will provide you with these files.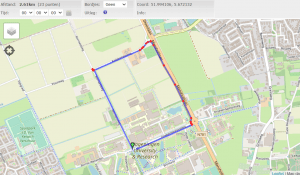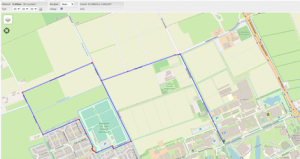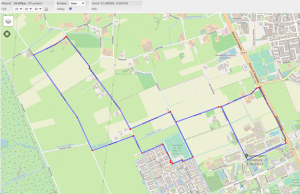 Individual results
Individual results Campus Run 2021
7-13 June 2021
| Distance | Gender | Position | Name | Time |
| --- | --- | --- | --- | --- |
| 2,5km | Women | 1 | Dionne Ruijter | 00:11:02.6 |
| | | 2 | Marloes Laan | 00:11:11.8 |
| | | 3 | Lynn van Boheemen | 00:12:00.7 |
| | | 4 | Jenny Bakker | 00:12:03.9 |
| | | DSQ | Tamara van der Voort | 00:12:06.9 |
| | | 5 | Annika Segers | 00:12:35.0 |
| | | 6 | Annemieke Rutten | 00:12:37.7 |
| | | 7 | Iris De Leeuw | 00:12:41.8 |
| | | 8 | Christy Sieval | 00:12:48.1 |
| | | 9 | Britta Mescher | 00:13:11.8 |
| | | 10 | Femke Schreurs | 00:13:37.1 |
| | | 11 | Dana Kelder | 00:13:39.0 |
| | | 12 | Evgeniya Pukhovaya | 00:13:40.7 |
| | | 13 | Sigrid Bolder | 00:14:06.0 |
| | | 14 | Michelle Pijpers | 00:14:55.8 |
| | | 15 | Chloe de Mortier | 00:15:48.1 |
| | | | | |
| 2,5km | Men | 1 | Jelle ten Harkel | 00:09:17.6 |
| | | DSQ | Peter Bos | 00:09:31.8 |
| | | 2 | Rens van Gulick | 00:09:56.5 |
| | | 3 | Thomas van der Heijde | 00:10:02.7 |
| | | DSQ | Stijn van Nierop | 00:10:18.6 |
| | | 4 | Ruben Schutte | 00:10:23.8 |
| | | 5 | Frank van Crasbeek | 00:10:30.3 |
| | | 6 | Thomas Kuijt | 00:10:45.5 |
| | | 7 | Wieger Wamelink | 00:11:38.4 |
| | | 8 | Jolien Stammes | 00:14:57.6 |
| | | | | |
| 5km | Women | 1 | Luca Reniers | 00:19:58.5 |
| | | 2 | Chrisja van de Kieft | 00:21:46.1 |
| | | 3 | Sasja Noach | 00:22:35.9 |
| | | 4 | Joanne Treurniet | 00:23:05.1 |
| | | 5 | Dagmar van Esch | 00:23:30.2 |
| | | 6 | Isis van Beers | 00:23:56.0 |
| | | 7 | Sophie Kemme | 00:24:10.9 |
| | | 8 | Fleur Porskamp | 00:24:12.9 |
| | | 9 | Verena van den Dikkenberg | 00:24:37.8 |
| | | 10 | Meike Romeijn | 00:25:17.0 |
| | | 11 | Harriet Dubbink | 00:25:26.4 |
| | | 12 | Paulien Dekkinga | 00:25:35.2 |
| | | 13 | Antke Leeuwerik | 00:25:44.4 |
| | | 14 | Ehlana H | 00:26:08.0 |
| | | 15 | Leannah Sies | 00:26:10.1 |
| | | 16 | Anouk Bruggink | 00:26:58.3 |
| | | 17 | Heleen Vermeulen | 00:27:11.1 |
| | | DSQ | Dana Kelder | 00:29:03.3 |
| | | 18 | Romy Lammerts | 00:29:04.0 |
| | | 19 | Charlotte Linthout | 00:29:14.9 |
| | | 20 | Rianne Halsberghe | 00:29:19.4 |
| | | 21 | Akankshya Mahji | 00:30:42.0 |
| | | 21 | Juutje Brown | 00:30:49.3 |
| | | 22 | Ting Bian | 00:31:20.1 |
| | | 23 | Annemerel Mol | 00:31:22.0 |
| | | 24 | Jitske Makaske | 00:31:34.4 |
| | | 25 | Nienke Kanits | 00:31:45.5 |
| | | 26 | Xiaofang Yan | 00:32:58.5 |
| | | 27 | Nicky van der Westen | 00:35:15.8 |
| | | 28 | Riahna Kembaren | 00:46:35.2 |
| | | | | |
| 5km | Men | 1 | Daan Reijnen | 00:17:45.9 |
| | | 2 | Ties van Zandbrink | 00:18:40.6 |
| | | 3 | Bart Vilier | 00:18:50.8 |
| | | 4 | Peter Bos | 00:19:18.9 |
| | | 5 | Lukas Vollmer | 00:19:21.9 |
| | | 6 | Tim Bosman | 00:20:32.8 |
| | | 7 | Jordi Huirne | 00:20:37.1 |
| | | 8 | Ruben Schutte | 00:21:44.2 |
| | | 9 | Elmar van der Wijk | 00:21:47.0 |
| | | 10 | Thomas van der Heijde | 00:21:56.4 |
| | | 11 | Rens van Gulick | 00:22:06.1 |
| | | 12 | Frank Pieterse | 00:22:14.2 |
| | | 13 | Ruben van Wiggen | 00:22:37.4 |
| | | 14 | Patrick Beemsterboer | 00:24:19.2 |
| | | 15 | Dingming Rao | 00:24:34.0 |
| | | 16 | EJ Bakker | 00:25:19.9 |
| | | 17 | Lucas Folmer | 00:25:45.3 |
| | | 18 | Cas van den Munckhof | 00:25:52.8 |
| | | 19 | Pasha Weken | 00:26:47.2 |
| | | 20 | Chandan Shakya | 00:28:50.1 |
| | | 21 | Wieneke Savonije | 00:29:00.0 |
| | | 22 | Ralph van Berloo | 00:29:22.5 |
| | | 23 | Job Oude Vrielink | 00:30:12.1 |
| | | 24 | Matthias Mulder | 00:33:22.2 |
| | | | | |
| 10km | Women | 1 | Susan van Weperen | 00:43:32.5 |
| | | 2 | Jana Bruijn | 00:46:36.0 |
| | | 3 | Anna Heemskerk | 00:49:53.0 |
| | | 4 | Emily Pascoe | 00:50:13.7 |
| | | 5 | Katja Sluijter | 00:52:13.2 |
| | | 6 | Marieke de Swart | 00:53:23.8 |
| | | 7 | Sophie Kemme | 00:53:29.8 |
| | | 8 | Katarina Streit | 00:54:05.8 |
| | | 9 | Sara Fiorito | 00:55:40.2 |
| | | 10 | Maria Escobar | 00:58:07.3 |
| | | 11 | Lynn van Boheemen | 00:58:21.5 |
| | | 12 | Serena Horsmans | 01:03:30.1 |
| | | | | |
| 10km | Men | 1 | Samuel Biron | 00:37:16.7 |
| | | 2 | Tim Verhoeven | 00:37:50.0 |
| | | 3 | Giovanni Passuello | 00:43:02.0 |
| | | 4 | EJ Bakker | 00:46:23.6 |
| | | 5 | Ruben Schutte | 00:47:17.0 |
| | | 6 | Mitchel Bourne | 00:47:25.5 |
| | | 7 | Peter Karssemeijer | 00:48:09.9 |
| | | 8 | Hans Smid | 00:48:24.8 |
| | | 9 | Lukas Vollmer | 00:52:06.6 |
| | | 10 | Bram Holst | 00:52:31.0 |
| | | 11 | Robert Kaan | 00:56:09.5 |
| | | DSQ | Lieuwe Brouwer | 00:58:21.2 |
Team results
Team results Campus Run 2021
7-13 June 2021
| Position | Team member | Team name | Distance | Time | Speed | |
| --- | --- | --- | --- | --- | --- | --- |
| 1 | Bart Vilier | Splitted | 5 | 18:50,8 | 15,92 | |
| | Jordi Huirne | Splitted | 5 | 20:37,1 | 14,55 | |
| | Ruben Schutte | Splitted | 5 | 21:44,2 | 13,80 | |
| | Pasha Weken | Splitted | 5 | 26:47,2 | 11,20 | |
| | | | | | 13,87 | |
| 2 | Chloe de Mortier | Anti-lopen | 2,5 | 15:48,1 | 9,49 | |
| | Frank van crasbeek | Anti-lopen | 2,5 | 10:30,3 | 14,28 | |
| | Elmar van der Wijk | Anti-lopen | 5 | 21:47,0 | 13,77 | |
| | Iris De Leeuw | Anti-lopen | 2,5 | 12:41,8 | 11,81 | |
| | Cas Van den Munckhof | Anti-lopen | 5 | 25:52,8 | 11,59 | |
| | Frank Pieterse | Anti-lopen | 5 | 22:14,2 | 13,49 | |
| | | | | | 12,41 | |
| 3 | Leannah Sies | Peter Bak | 5 | 26:10,1 | 11,46 | |
| | Meike Romeijn | Peter Bak | 5 | 25:17,0 | 11,87 | |
| | Harriet Dubbink | Peter Bak | 5 | 25:26,4 | 11,79 | |
| | Ruben van Wiggen | Peter Bak | 5 | 22:37,4 | 13,26 | |
| | Joanne Treurniet | Peter Bak | 5 | 23:05,1 | 13,00 | |
| | | | | | 12,28 | |
| 4 | Christy Sieval | Splitastisch | 2,5 | 12:48,1 | 11,72 | |
| | Marloes Laan | Splitastisch | 2,5 | 11:11,8 | 13,40 | |
| | Annemieke Rutten | Splitastisch | 2,5 | 12:37,7 | 11,88 | |
| | Sigrid Bolder | Splitastisch | 2,5 | 14:06,0 | 10,64 | |
| | | | | | 11,91 | |
| 5 | Lucas Folmer | Accelerando | 5 | 25:45,3 | 11,65 | |
| | Tamara Voort | Accelerando | 2,5 | 12:06,9 | 12,38 | |
| | Antke Leeuwerik | Accelerando | 5 | 25:44,4 | 11,66 | |
| | | | | | 11,89 | |
| 6 | Charlotte Linthout | WUR tiger beetles | 5 | 29:14,9 | 10,26 | |
| | Lieuwe Brouwer | WUR tiger beetles | 10 | 58:21,2 | 10,28 | |
| | Emily Pascoe | WUR tiger beetles | 10 | 50:13,7 | 11,95 | |
| | Hans Smid | WUR tiger beetles | 10 | 48:24,8 | 12,39 | |
| | Mitchel Bourne | WUR tiger beetles | 10 | 47:25,5 | 12,65 | |
| | Peter Karssemeijer | WUR tiger beetles | 10 | 48:09,9 | 12,46 | |
| | Marieke de Swart | WUR tiger beetles | 10 | 53:23,8 | 11,24 | |
| | | | | | 11,60 | |
| 7 | Job Oude Vrielink | Wolkenwietje | 5 | 30:12,1 | 9,93 | |
| | Verena van den Dikkenberg | Wolkenwietje | 5 | 24:37,8 | 12,18 | |
| | Anouk Bruggink | Wolkenwietje | 5 | 26:58,3 | 11,12 | |
| | | | | | 11,08 | |
| 8 | Britta Mescher | Run to the Sun | 2,5 | 13:11,8 | 11,37 | |
| | Lynn van Boheemen | Run to the Sun | 10 | 58:21,5 | 10,28 | |
| | Jenny Bakker | Run to the Sun | 2,5 | 12:03,9 | 12,43 | |
| | Serena Horsmans | Run to the Sun | 10 | 03:30,1 | 9,45 | |
| | Heleen Vermeulen | Run to the Sun | 5 | 27:11,1 | 11,04 | |
| | | | | | 10,91 | |
| 9 | Michelle Pijpers | Survival of the fittest | 2,5 | 14:55,8 | 10,05 | |
| | Jolien Stammes | Survival of the fittest | 2,5 | 14:57,6 | 10,03 | |
| | Femke Schreurs | Survival of the fittest | 2,5 | 13:37,1 | 11,01 | |
| | Annika Segers | Survival of the fittest | 2,5 | 12:35,0 | 11,92 | |
| | | | | | 10,75 | |
| 10 | Chandan Shakya | This is going to be slow | 5 | 28:50,1 | 10,40 | |
| | Riahna Kembaren | This is going to be slow | 5 | 46:35,2 | 6,44 | |
| | Akankshya Majhi | This is going to be slow | 5 | 30:42,0 | 9,77 | |
| | | | | | 8,87 | |
| | | | | | | |
| | | | | | | |
Contact
For questions about the Campus Run, please send an e-mail to:
campusrun@tartletos.nl
Sponsors