Are you enthusiastic about running, throwing of jumping? Join Tartlétos, the student athletics association of Wageningen! Whether you have doing athletics since you were little or never done it before and are curious about athletics, everyone is welcome!
We train a few times a week on our track. At the end of this page, there is stated more information about the introduction trainings and the training days and times.
With Tartlétos, we also go to competitions together. Every year we have a competition team for the men and women. Moreover, we go together to student championships (NSK's) like NSK Road, NSK Team and NSK Stairs. Sometimes we organize a NSK ourselves like last year we organized NSK Multiple Events. Also, don't forget the nice parties after the NSK. Besides this, we go together to trackmeetings, and every year many tartletes participated in the cross country circuit and we always have a team in the Veluweloop and Batavierenrace. We also organize competitions ourselves like the Campus Run and the Life Science run. Also, if you never done a competition, it is nice to join and try out!
BECOME A MEMBER
In the first weeks of the academic year, we have introduction trainings. You can easily join these trainings and see if you like and would like to become a member. Just show up at the days and times mentioned below and join our training! Do you want to become a member later during the year? You can always join our training three times for free.
Being a member of Tartlétos costs 36 euro a year. Next to that you need a subscription from the Atletiekunie, which is the national athletics federation and costs 18.50 euro or 43 euro (to join competitions). To participate in competitions, track meetings and NSK you will need the membership of 43 euro. Moreover, everyone needs to have sports rights from the Bongerd. Do you want to become a member? Ask for the subscription form at the training or download below. Fill in the form and hand it over to the secretary or send an mail to tartletos@wur.nl
INTRODUCTION TRAINING
Good news! We are getting a new track! Unfortunately this means that the coming weeks, we cannot train on our own blue track. Normally we train on Monday (strength training), Tuesday (track training) and Thursday (track training). During the weeks that the track is going to be renovated, we will follow the training days and times stated below. The technical group and running groups will thus train on different days, after the renovation we will all train together.
On Monday and Wednesday, the technical group will train at Climax in Ede (Sportparkweg 20, 6717LD Ede). Each training we will focus on two disciplines, you can see which ones in the picture below. Each training there is also a sprint training. We will bike together to Ede, we will leave at 19:10 from the Bongerd.
On Tuesday and Thursday, the running group will train in Wageningen. We will gather at 't Hok, which is on the left side of the track between the Bongerd and the tennis fields. Click on the photo to zoom in.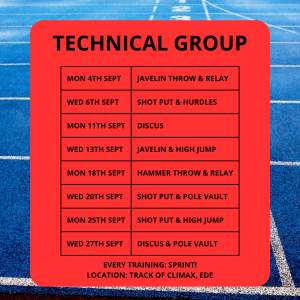 ACTIVITIES
We are organizing various activities during the introduction period. Would you like to join? Send an email to tartletos@wur.nl. Click on the photo to zoom in. 
COMPETITIONS 
We are also going to a few competitions in the coming weeks. Below you can find an overview, click on the photo to zoom in. Would you like to join? Talk to us during the training or send an email to tartletos@wur.nl. Click on the photo to zoom in.