In September, a new academic year will start! Whether you have been living in Wageningen for a while or have just moved to Wageningen, everyone is welcome to join us to practice the Mother of all sports! Interested in joining Tartlétos and want to do a training on our track? Read all the information below for all the answers to your questions.
Which days are the trainings and what time do they start? 
Our trainings take place on Tuesdays and Thursdays. They start at 6 pm and end around +/- 8 pm (so our trainings are 2 hours). They consist of 15 minutes warming up, 45 minutes of core stability and running drills, and 1 hour of technical training (if you join the technical group) or running a schedule (if you are in the running group). In the first month, there will be offered long distance and MiLa (middle long distance) every training, this applies also for sprinting. For the other technical disciplines it is not possible to do them every training in the first month, because there are so many people on the track and it will not fit to do all the disciplines every training. After September this will return to normal. For now, it is decided to do 1 jumping discipline and 1 throwing discipline every training. This is the schedule for September: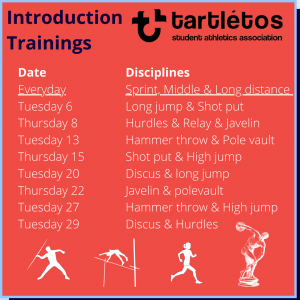 Should I sign up for a training? 
No! you can just come by and join us. There is no need to mail us for letting us know that you are coming, we'll see you appear 🙂
Do the trainings start on the blue track next to the bongerd? 
Yes they do! We do meet at the red point next to the building for all the training stuff (the blue square). This is at the side of the Nijenoord Allee, NOT the university side!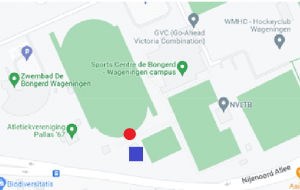 What do I have to take with me when I'm coming to a training? 
You do need your sportswear (I would give the advice to also take some warm clothes with you, because when the sun goes down the temperature also does ), good running shoes, a bottle of water, a bit of food (after training you'll be very hungry), sunglasses if it is a sunny evening and your spikes if you have them (not necessary).
Who should I approach when I still have questions? 
You can approach the board before, during or after the training. They are wearing a light blue t-shirt so they are recognisable.
Are there also social activities which I can join? 
If you also want to join a few social activities like dinners, having drinks together and much more you can join a mentor group via this link: https://forms.gle/XynkBKEBJcAMQNpR6
Your mentor will take you to the social activities and will keep you updated about what, when and where!
If you do not want to join a mentor group you can still join the activities. You can find them on the website (www.tartletos.nl) by 'agenda' and the overview of activities are  as follows: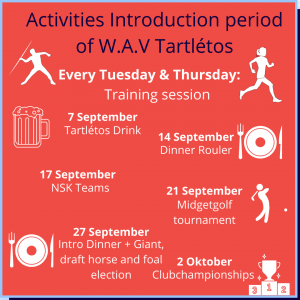 For more information per activity see the 'agenda' page at the website, or follow our instagram for updated information.
What to do when I decided that I would like to be a member (yay!)? 
You can approach Lisa on the training (our secretary) for a registration form. You can bring the form with you the next training to return the filled in form to Lisa. A membership costs 31,50 euros per year. This will be inned during the year so you do not have to pay immediately. If you also want to join the competitions, Dutch student athletics championships and other races you do need to have a competition licence which is about +/- 42,50 euros per year.
I hope this will be enough information for now and we would love to see you (back) on track!!!
An impression of our association and athletics in Wageningen: